Since I am junior class sponsor, I've been busy with Prom so until then I've been putting all my creative juices into prom decorating. Prom is Saturday, April 13, so you probably won't see much posted on the blog until after that. I did want to spread the following news. Let me know, if you have any questions.
I'm excited to let you know that Stampin' Up is offering
FREE shipping
on EVERYTHING in my
Online Store
Saturday, April 6 - Monday, April 8
(
excluding expedited orders
)! There are
no minimums
or limits. Free shipping is on everything!
New colors are coming, and that means some colors are being discontinued. They will only be available "while supplies last", so hurry.
SUMMARY OF Five HOT SPECIALS
FREE SHIPPING! April 6-8 plus enter to win free stamps!
NEWS: New Color Changes are Announced
Stampin' Up Announces the Color Refresh!
Color is fundamental to who we are and what we offer. It's important for us to stay up-to-date with color trends so we are thrilled to share our updated line of colors, and hope you will be as excited as we are by the new possibilities!
Why now?
In 2010 we did a big color renovation and shared our plans for smaller color refreshes every three to five years to keep our colors on trend. Well it has been three years and we are excited to announce that the upcoming 2013-2014 annual catalog will include 10 new colors (most of which are returning In Colors from previous years)! We are welcoming back some of your favorites, moving some colors around, and introducing one brand-new color, so take a look!
NEWS: Watercolor Pencils and Crayons Discontinued
WHILE SUPPLIES LAST!
Beginning (April 4, 2013),
all retiring/discontinued color products
(i.e. ink, paper, ribbon, accessories, etc.) will be
available only while supplies last
. This means that
some products will not be available through the retired list period
. Stampin' Up! did anticipate increased demand and based our forecasts for these retiring colors on historical sales information from previous color transitions. However, even with the most careful planning, the response to a transition of this nature can surprise everyone.
IMPORTANT:
any of our retiring color products are only available while supplies last so they can get their favorites and look forward to the exciting colors coming in the 2013-2014 annual catalog.
NEW PUNCH: Curly Label Punch now available for purchase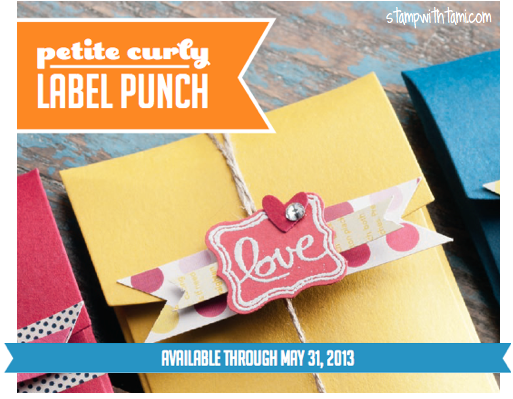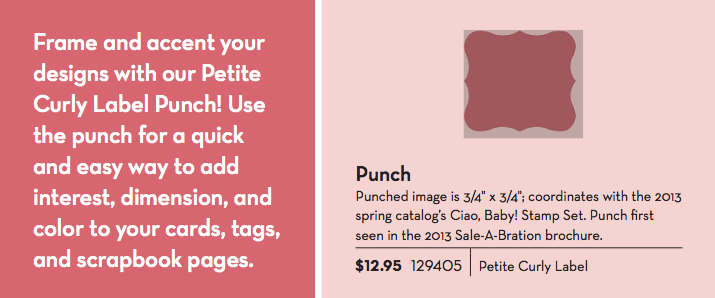 MDS DOWNLOADS: Plan the Perfect Bridal Shower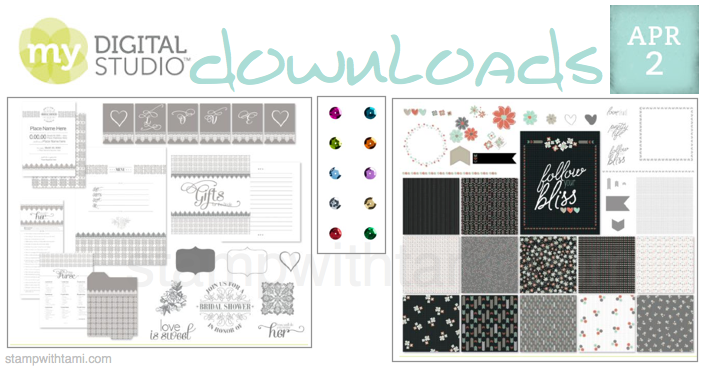 Love is in the air-let the season of bridal bliss begin! If you're planning a shower for a special bride-to-be, let My Digital Studio do the work for you.
The new
For the Bride Ensemble
comes complete with:
Invitations
A gift record book
Two game templates
Treat toppers
Banner
Menu
Napkin holders
BEST OF 25 YEARS: April Edition - Best of Butterflies